Website Expenses
For creating your own website
When you hire a company to build a website for you, it could cost hundreds or even thousands of dollars that you'll have to shell out within a year so that they can build and run your website in a timely manner. However, if you can learn to DIY (Do It Yourself) then the costs are significantly less but it does require regular maintenance and content building. To give you an idea on how much it could cost, I am going to outline how much it costs me to create this very simple website.
NinjaSpaceContent.com Website Expenses
Domain Cost
My domain cost is $38.32 for 3 years. You have the option to pay annually but you'll need to remember to renew it every year or have it on 'auto-renew'. You can pay for multiple years at a time too. For this domain, NinjaSpaceContent.com, I bought the domain for 3 years and found a promo code online. The average cost of a domain per year is about $15 but if you can buy for more than a year and find a promo code, it could save you money like it did for me here from Godaddy. After three years, it will auto-renew or I can turn that 'auto-renew' off and manually pay my fees when my expiration date is coming up and decide how long I want to pre-pay for it again. Even though I could have found a better deal somewhere else to buy this domain, I've been really loyal to Godaddy because I like to keep all of my domains in one place for better management on my end. However, if you're just starting out, go with the best domain deal that you can find.
CONTENT MANAGEMENT & Hosting COST
My hosting package is on auto-renew from Yola Silver every year for $119.45 and it covers up to 25 websites. This is an amazing deal because it includes a great Content Management System. I have not met the 25 max yet so for me when I added this NinjaSpaceContent.com domain to my existing Yola Silver hosting account that I already have, it was not an additional hosting cost. It's perfect and cost-effective for me because I own so many domains (and most likely, I'll keep buying more).
What's included in a Yola Silver Hosting Package:
Mobile-optimized Publishing functionality.

Facebook Page

publishing.
Unlimited access to our Premium Style library to help your website stand out!
Unlimited priority premium email support.
Detailed site traffic view available in your My Yola dashboard.
Custom CSS editing.
Submenus.
Immediate access to Pixabay's library of over 400,000 stock images
Yola Link Removal - the Yola Link at the bottom of free styles removed from all your sites.
Use

domains purchased elsewhere

and pointed to Yola to publish your site.
Create up to 25 sites, get 5GB of storage per site, and upload files of up to 100MB.
The ability to upload HTML and Javascript files.
In all, whichever companies you decide to go with for your domain and hosting, they shouldn't cost more than a total of $60 - $180 for the first year using the promotions you can find to build and manage your simple website or blog.
For this website, I currently do not have an SSL certificate for it. If you're going to be running an e-commerce website and will be collecting proprietary information, then you would need one. That would be an additional $70 - $150 every year, depending on where you plan on purchasing it. Even though I currently don't have one for this website, if and when it does evolve to the point where I'd definitely need one, I'll update it here and let you know which one I went with.
Read my blog entry on the topic of SSL certificates.
Note: links to resources and special deals may allow me to earn a commission from each sale.
Marketing Expenses to Market Your Website
Advertising or Promotion Costs
Now more than ever, there are so many easy ways to market your website. With the power of social media and search engine ads, you have a lot of choices.
Free Social Media Marketing
With so many social media websites available to us now, you can create a business profile account for each social media website and include your website link on there. It's a way to market your website or blog for free because it's free to create these accounts! Utilize them. (A Facebook business page is and should be separate from your personal account.) Other social media websites that you should create a business account for include: LinkedIn, Facebook, Instagram, Pinterest and latest but greatest, TikTok. Post regularly on them and always remember to include your website link or blog whenever you do. See an example of a business facebook page that I created for HartsvilleMom.com: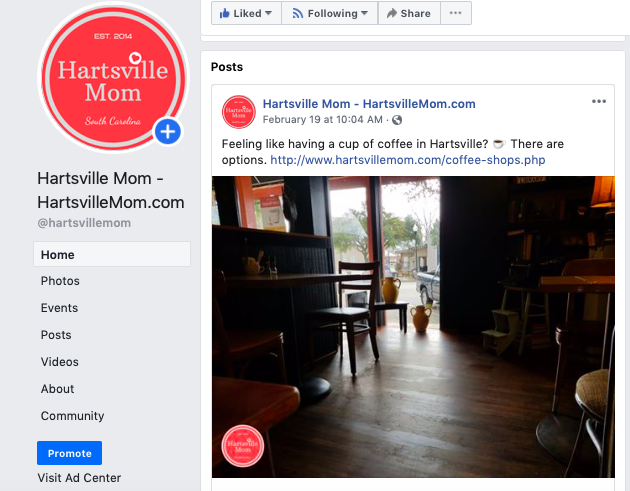 (A Facebook post like this with a link that links back to a page of your website is a great way to increase your traffic)

Paid Marketing
Paying ads to market your new blog or website is a really quick way to let many people online know about your website and it doesn't have to cost a lot. You can control your budget and bid.
Here's a list of social websites that you can use to promote your website or blog:
Facebook Ads
Microsoft Ads (includes Bing, Yahoo and AOL search engines)
Google Ads
LinkedIn Ads
Pinterest Ads
Instagram Ads
As you can see from my list above, many of the affordable ways to market and promote your website is through a social media company. As mentioned, it's free to create an account on any of these social media websites and write posts. However, if you want to ensure that people would be able to see it immediately, you can pay to promote your posts by paying for ads to promote them.
(Note to those who are unsure about social media: When you create a free social media account, It doesn't mean you have to start sharing about your own personal life if you're just using social media to advertise. You can just use it strictly for marketing your website or blog. They don't even have to see your face.)

Try to find promotions or promo codes from these companies for advertising. Sometimes I stumble onto them and then forget where I saw them! Save screenshoots when you do find them. You may find it handy later.
Sample Ad Budget
To give you an idea on how budget-friendly an ad campaign can be, I ran an ad campaign on Microsoft Ad with a set budget for $1 a day for only 11 days. That's a total of just $11 for my ad campaign. I had set it to end specifically on March 7, 2020. However, the credit card I had on file with Microsoft Ad expired on March 1 so my campaign got cut short so it only ran for a few days. By the way, Microsoft Ad could take a couple of days before they approve your ads so make sure you allot some time for that at the beginning. I only got charged by clicks and never by impressions so within 4 days, I only received 3 clicks but 1,963 impressions and it all costed me just $0.18. Yup, you read that right, 18 cents.
I also ran an ad on Pinterest for an image I've pinned (my original photo) that links back to one of my websites. My budget for this Pinterest pin was $1 a day for 5 days but because my credit card on file expired, the campaign was cut 1 day short. In all, the ad cost was a total of $4. See my
detailed results on this Pinterest ad campaign
in the
blog section
.